About Dr Dan
Dr Daniel K. Robinson (aka Dr Dan) is an award-winning freelance artist and educator, predominantly teaching in his private studio and performing Australia wide. In the spirit of reconciliation, Dr Dan acknowledges the Yuggera and Turrbal people, Traditional Custodians of the land on which his teaching studio is placed, and he pays respects to their Elders past, present and emerging. Daniel (he/him) regularly presents for conferences as a Singing Voice Specialist, providing workshops and practical learning activities to contemporary vocalists across Australia and abroad. In 2011 Daniel completed his Doctor of Musical Arts degree at the Queensland Conservatorium Griffith University. Watch Daniel singing (below)…
Dr Dan's Equity, Diversity, Inclusion, and Belonging Statement
"Dr Dan's Voice Studio is a safe space where you can fully express yourself without fear of being made to feel unwelcome or unsafe because of your race, ethnicity, sexual orientation, religion, size, gender expression, immigration status, socio-economic background, mental health, physical ability, neurodiversity, country of origin, cultural heritage, or native language. Though we may not always agree, we will respect each other's personhood and existence in order to build a strong community and sense of belonging for all."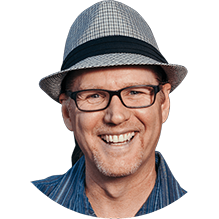 Contemporary Singing Voice Specialist
Dr Dan, as he is affectionately known by many of his students, is nationally recognized as one of Australia's leading Contemporary Singing Voice Specialists with over 25 years of teaching experience and 25 years of performance on the stage. The combined industry strengths of high-level academic credentials and current gigging know-how position Daniel greatly to assist his student's vocal and artistic development. Daniel is on the International Editorial Board of the Australian Voice Journal. In the past, Daniel has served on the national board of the Australian Voice Association (AVA) as the National President and as National Vice President of ANATS (Australian National Association for Singing Teachers). Daniel maintains his Full Membership for AVA and ANATS so that you can be fully confident in his expertise and professional currency. Download Dr Dan's Corporate Profile CV here.
---

Seasoned Performer
Daniel Kay (Dr Dan's stage name) has over two decades of extensive experience in singing for a range of audiences in corporate settings, from major gala awards, conferences and openings to more intimate corporate dinners. Daniel's 3.5-octave tenor voice is stunning and his ten-year dedication to developing sound technique through training has honed his natural talent to a refined and mature voice that is capable of approaching a range of contemporary styles. Daniel performs some of the most difficult of repertoire with ease and especially connects with adult contemporary material, power ballads and music theatre. Daniel's stage presence and performance experience allow him to engage even the most discerning of audiences through song. Daniel shines as a soloist but has also worked as a duo, in ensembles, choirs and with bands; he is a flexible and expert singer suitable for any style of corporate function. Daniel has been called 'a singer's singer' in reference to his appeal as a performer and has drawn a range of credits from well-respected leaders in the music industry. With two national top 30 singles, Daniel's outstanding album has been widely celebrated as "Simply Stunning!" Daniel's album is available through the Djarts' online store.
---

Researcher & Academic
Daniel's thesis, Contemporary Worship Singers: Construct, Culture, Environment and Voice, reveals that the role and the vocal task of the Contemporary Worship Singer lacks general understanding by key stakeholders: church music directors, professional singing teachers and the Contemporary Worship Singers themselves. The study draws conclusions from the four structural pillars of enquiry (construct, culture, environment and voice) and delivers nineteen distinctive features that distinguish the Contemporary Worship Singer as a unique vocalist in the wider community of singers. The implications of the study find their climax in the 'Contemporary Worship Singer Assessment Tool'. Daniel is also known for his various academic-level writings. Recent writings include Teaching the Contemporary Worship Singer (ed. Harrison, 2010), Singing in Church: The role of men in Contemporary Worship (Harrison & Robinson, 2011), Look before you Leap! (Journal of Singing, 2012), the recently released Springer publication, Teaching Singing in the 21st Century (ed. Harrison & O'Bryan, 2014) in which Daniel's chapter, Voice in Worship, provides a brief overview of his doctoral research, and TV Talent Shows: Navigating the Minefield (Journal of Singing, 2014).
---
---
What Dr Dan's collegues are saying...
---
"A rare find"
"Dr. Dan's extensive knowledge of the voice, wealth of performance experience and remarkable teaching ability make him a rare find. His involvement with such organisations as ANATS, AVA, ICVT and DJARTS, Dr. Dan continues to have a national presence as one of Australia's leading contemporary singing voice specialists. I have been fortunate to perform with Dr. Dan on multiple occasions and can attest to his professionalism, artistry and versatility as a vocalist. If you are looking to improve your skill as a vocalist I highly recommend you see Dr. Dan, as he can expertly diagnose and correct vocal faults, assist in building the voice and give guidance in the areas of artistry and performance. Choosing to study voice with Dr. Dan will be one of the best decisions you make!"
Zac Bradford – Contemporary Singing Teacher
---
"Second to none in his knowledge"
"I am privileged to work in a vocal team with Dr Daniel K. Robinson whom I consider second to none in his knowledge, skill and integrity as a contemporary voice specialist. The fact that he works so well with Ear, Nose and Throat specialists , Speech Pathologists and of course his clients distinguishes him as a leader in his field."
Patricia Baldock – Speech Pathologist
"One of the hardest working voice teachers in Brisbane"
"Over the many years I have been associated with Daniel, I have always found him to be courteous, helpful and knowledgeable. He is one of the hardest working voice teachers in Brisbane with lots of energy and commitment to contemporary vocal health and technique. Above alI, I value his skills, abilities and integrity."
Ingrid James – Jazz Voice Specialist
"An inspirational teacher"
"In my opinion Dr Daniel K. Robinson is a keen vocal pedagogue and an inspirational teacher. His energy and enthusiasm for his craft as a singer, teacher and presenter is outstanding, displaying confidence, competence and professionalism, whilst at the same time assisting his pupils to reach their full potential."
Jane Mott – Speech Pathologist & Past President of Australian Voice Association